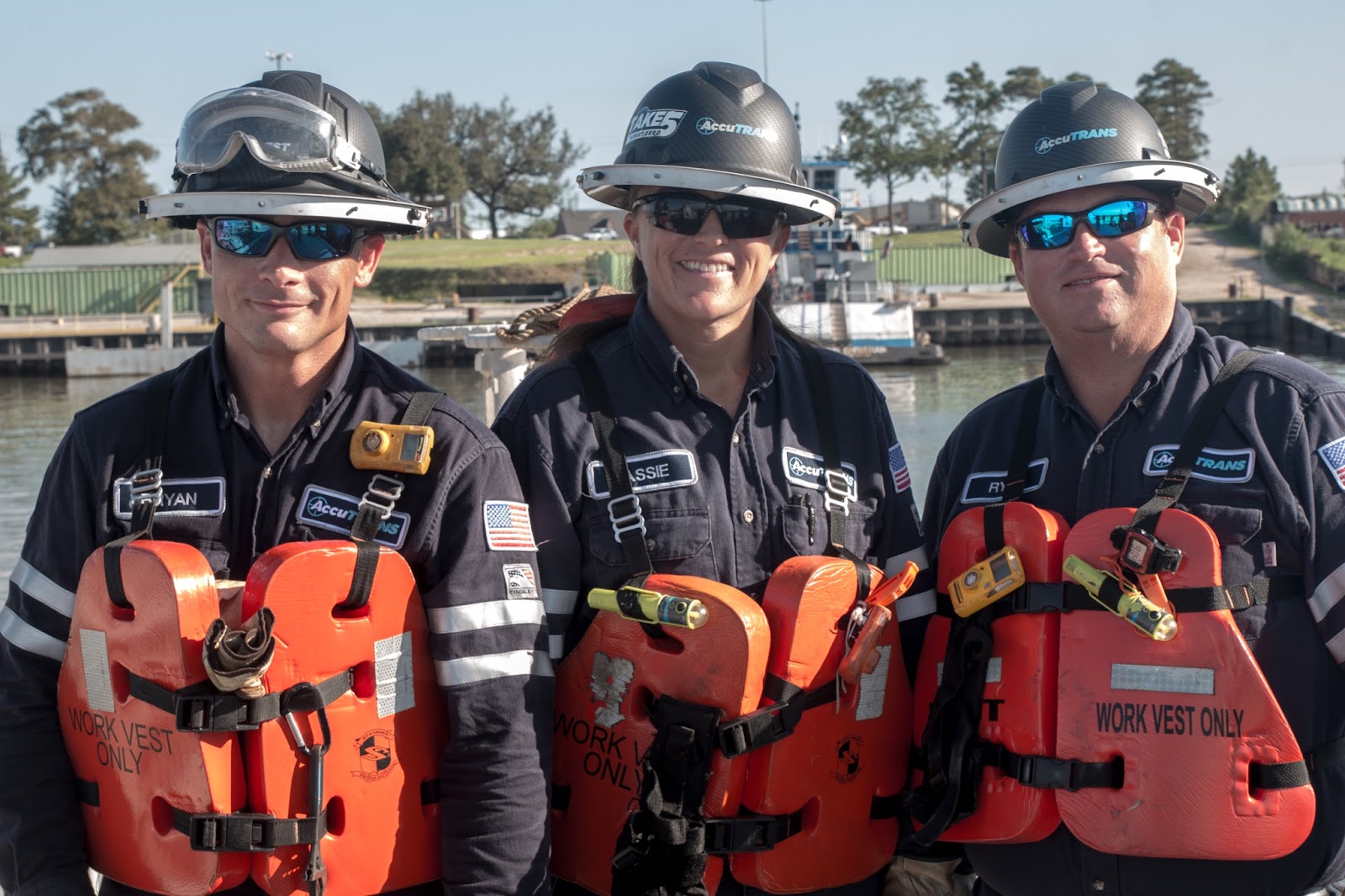 No matter what stage of life you are in, it's never too late to find the career of your future. While life as a tankerman-Barge PIC can be challenging, it's exceedingly fulfilling and offers excellent compensation. More importantly, at AccuTRANS, we offer a transparent hiring process, industry-leading compensation, benefits, career advancement opportunities, and a culture that ensures you and those you love most are taken care of. Here is everything you need to know about getting becoming a Tankerman to start the career of your life as a Merchant Mariner:
What Is a Tankerman PIC endorsement?
A tankerman-Barge PIC ( person in charge) endorsement is a certification that tankermen must have to oversee the process and storage of liquid cargo, like fuel or oil.
An endorsement is a merchant mariner credential that the U.S. Coast Guard, which oversees all Merchant Marine Credentials (MMC), issues to qualified mariners, and it verifies that they have trained to support and supervise transferring dangerous liquids and liquefied gasses.
Acquiring this tankerman certification requires completing a general process and meeting specific requirements.
What Is the Process for Obtaining a Tankerman-PIC Endorsement?
Generally speaking, the process for applying for and obtaining a tankerman-Barge PIC DL and LG endorsement involves four steps:
After completing this process, you will then have to wait. If your application is approved, the National Maritime Center will send you your endorsement in the mail.
What Are the Requirements for a Tankerman-Barge PIC DL and LG Endorsement?
To obtain your tankerman endorsement, you also must meet specific service requirements, as well as requirements for general eligibility.
General Eligibility Requirements
To satisfy eligibility requirements, you must:
Be at least 18 years old
Speak English
Provide a medical certificate
Comply with drug testing
Pay mariner's fees
Submit sea service letters for proof of transfers and sea time (if applicable)
Acquire an approved Firefighting Course Certificate
Acquire an approved Cargo Course Certificate
Satisfy course requirements specified in 46 CFR § 13.121
Service Requirements
Additionally, those obtaining their tankerman-Barge PIC endorsement must satisfy specific sea service requirements. Still, the National Maritime Center offers a range of endorsements, each with specific requirements.
For all endorsements, candidates must have completed all qualifying service experience within 5 years of the application. There are two tankerman-Barge PIC certificates available, both of which have distinguishing qualifications:
Tankerman-PIC: For this endorsement, applicants must have "90 days' service as a deck or engineering officer on one or more TANK SHIPS or a self-propelled tank vessel certified to carry DL (dangerous liquids) or LG (liquefied gasses)" or "90 days rating or cadet service on deck or engine department on TANK SHIP or self-propelled tank vessel certified to carry DL or LG," or a combination of the two.
Tankerman-PIC (Barge): For this endorsement, candidates must have "60 days' service (shore- or -vessel-based) on tank vessels certified to carry DL or LG" or "180 days [of] closely related service directly involved with tank barges."
Get Paid While You Earn your Tankerman-Barge PIC Endorsement
If you are looking to begin a fresh chapter and an exciting new career, at AccuTRANS, we offer unrivaled career and education opportunities. Life as a tankerman is hard, and the work is demanding. Fortunately, we have gone above and beyond to build a culture that supports those that live by our core pillars: Grit, Heart, Thought, Hunger, and Health. At AccuTRANS, there's always room in our harbor for one more vessel to dock.
We can help you get paid while you earn your tankerman-Barge PIC endorsement and we offer industry-leading compensation and benefits. More importantly, with us, you are more than a part of a team. You're part of the AccuTRANS family. Browse open positions for unparalleled training opportunities and a fulfilling new career.