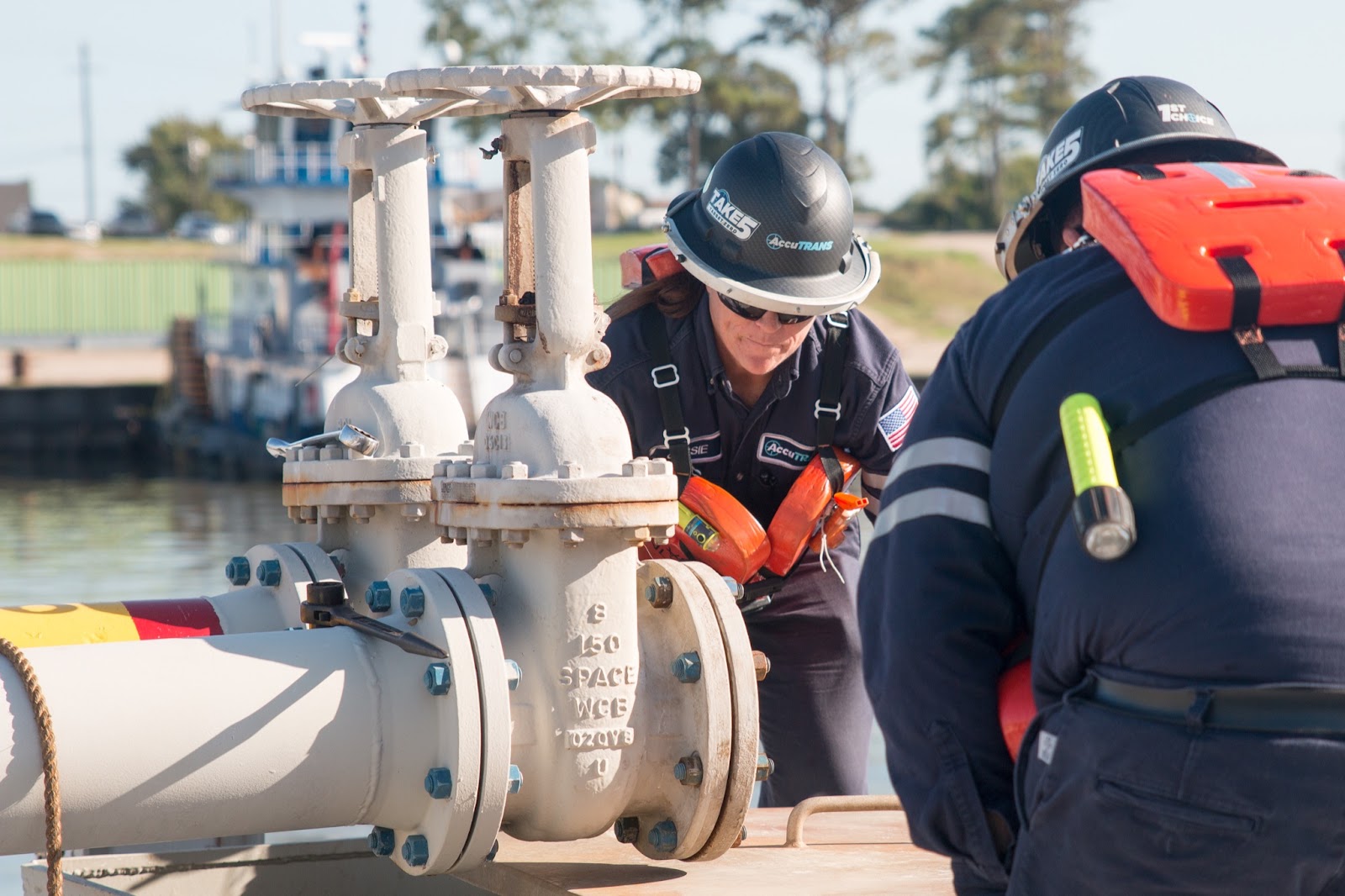 Finding the right company to work for can be challenging. Tankerman jobs are demanding, and your employer should do everything they can to support you. How do you find an organization that's behind you every step of the way? Here is what we recommend considering when looking for tankerman jobs:
The Culture You Deserve in a Tankerman Job
A company's culture sets the tone, and it's important when working shoreside jobs. A company that focuses on harvesting a dynamic culture and positive workplace can make the long hours on the job more comfortable and rewarding.
As a tankerman, you must find a company with a cohesive, supportive culture that alleviates stress and doesn't add to it. The pillars that set our culture apart are:
Grit
Heart
Hunger
Thought
Health
This industry is about people; working at a company that prioritizes continuous improvement and the safety and well-being of each employee and their families is imperative.
'You should come to AccuTRANS if you want to get treated like family,' Greg, a tankerman, offers, 'you want to enjoy your job, and you want to get treated like an employee and not just a number.'
Here, your AccuTRANS family always has your back. We prosper through heart, achieve through grit, and have a constant hunger to improve. We boast wellness and culture programs for employees and their families to fortify their health and happiness on and off the clock.
'We're making a difference in people's lives by teaching them life skills,' Dwayne, Director of QUEST, says, 'not just business skills. By making people better husbands, better wives, better parents, we're making them better employees.
In the end, when you become part of the AccuTRANS family, so do those who mean most to you.
The Benefits You Deserve in a Tankerman Job
You know the hazards and demands of your profession. Because working shoreside jobs often requires considerable sacrifice, you deserve a company that recognizes this sacrifice.
At AccuTRANS, we reciprocate our employees' efforts with industry-leading benefits, a competitive salary, and ample opportunities for personal growth. We also emphasize professional development because our passion is empowering employees to flourish.
We believe in maximizing each employee's earning potential. 'You can be making well over what a four-year degree from college can make,' Del, Area Manager, elaborates, 'Six figures? That's doable.'
Company benefits and opportunities demonstrate that an organization cares about its employees and those who mean the most to them. Our employees also enjoy significantly more control over their schedules, and other benefits offerings, including:
Weekly paychecks
Flexible, rotating schedules
HealthJoy App (wellness app)
Medical
Dental
Vision
Employer-paid life insurance
Voluntary Life
Employer-paid short-term disability
Voluntary long-term disability
401k
PTO
We also boast a unique training program called QUEST (Quality, Education, Safety, Training). Opportunities include:
USCG approved DL/LG training course
Firefighting training
Team coordination training
And more
Moreover, we have developed a work-life program, known as Velocity Course, that builds soft skills alongside the technical skills of a tankerman, and their logistics team counterpart, to endure the rigorous conditions and environments they work in.
At AccuTRANS, nothing illustrates how much we value our top-performing employees as the AccuTRANS Dynamic Performers Program. This program rewards employees and their spouses with vacations and other recognitions throughout the year.
At AccuTRANS, we don't treat you like a number; we take care of you like family through unrivaled benefits and compensation. Reach out to learn more about the hiring process.
The Reputation You Deserve in a Tankerman Job
Our employees are our biggest advocates because AccuTRANS' industry reputation is unmatched.
'I found out about the industry through word-of-mouth,' Greg recalls, 'and of course, when you're pursuing a career, you want to know about the company and what they represent to find the best company in the industry, and I was told AccuTRANS.'
We also understand how important it is to be a part of an organization that does meaningful work. Tankerman Josiah says, 'If you're looking to make a difference and feel like you're making a difference, AccuTRANS is the place to be.'
Everyone deserves a job that instills pride. At AccuTRANS, we actively give back to our communities, engage as community leaders, and have been recognized as a TOP WORKPLACE since 2015 by the Houston Chronicle and the New Orleans Advocate.
We know you want to be proud of your work, and you deserve to work at a company with a reputation for excellence among customers. We have built our reputation on trust and earned it through over two decades of industry excellence.
Browse Open Positions for the Tankerman Job of Your Future
You deserve a company that values its employees, has an excellent culture, boasts a good work environment, and enjoys a stellar reputation. Luckily, there are ample opportunities to find the workplace of your dreams.
At AccuTRANS, we offer competitive pay, industry-leading benefits, and an industry-leading reputation for working with the best. We have gone above and beyond to build a culture that supports those who live by our core pillars: Grit, Heart, Thought, Hunger, and Health. Browse open shoreside jobs now.