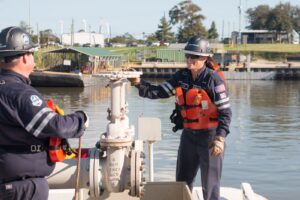 Whether you have recently received a job offer or are considering pursuing a career as an AccuTRANS tankerman, this is an exciting life chapter. Ultimately, at AccuTRANS, we pride ourselves on a transparent hiring process. More importantly, with us, you are more than just a number; you are part of the AccuTRANS family. Read more:
Onboarding & Orientation
Before welcoming you aboard our team as an AccuTRANS tankerman, we conduct an interview, background check, and physical exam.
This preliminary process takes approximately one week, and afterward, candidates enter the first official onboarding stage, which is orientation. Our orientation process includes:
Paperwork
Online training
Safety training
Receiving uniforms
Understanding what to expect
Training
Following orientation, a future AccuTRANS tankerman enters the training stage of the onboarding process. This period takes approximately 90 days.
Trainees meet their onboard trainers, and they accompany them in the field for hands-on instruction. Following this 90-day onboarding training, trainees return to obtain the US Coast Guard-certified PIC endorsement at a DL/LG school.
Throughout the process, AccuTRANS supports trainees and facilitates their application while they continue to go out into the field and receive training. AccuTRANS even ensures all information on applications is up-to-date and correct.
Trainees must satisfy specific requirements to acquire their PIC license, which AccuTRANS monitors closely. Until a trainee has their license, they continue to receive training.
AccuTRANS pays for these courses, which can cost over $10,000, and the company submits applications for trainees. Obtaining a license takes 6-months, and USCG-mandated requirements include:
Drug testing
Submitting sea service letters or discharges (if applicable)
Acquiring a Firefighting Course Certificate
Obtaining an Approved Cargo Course Certificate
60 (Barge) or 90 days' service on one or more vessel(s) certified to carry DL or LG
90 days rating, or cadet service
Cultivating Excellence On The Barge
Running concurrently with the DL/LG training, a prospective AccuTRANS tankerman must enter a training program that cultivates excellence on the barge.
This program measures progress, and we break it up into four phases, each taking approximately one month to pass. There is no uniform timeframe for completion. If candidates need more support, we provide additional resources to nurture their success.
'There's no right tool for any single job,' Dwayne explains, 'There's no right training for any single person. We have to adapt the training to each individual.' Each phase involves:
Proficiency scores from trainers
Written tests
One-on-one meetings with trainers
'We've heard about employees saying they've been thrown to the wolves,' Dwayne elaborates, and this is our way of preventing that feeling. Moreover, every time trainees advance to the next phase, they receive an increase in compensation.
At AccuTRANS, we always reward performance. The more you strive, the better you perform, and the more you succeed, the more we reward you.
Cultivating Excellence At Home
When bringing a new AccuTRANS tankerman into the fold, we nurture personal and professional growth because, with us, you're not just a number. You're family.
We take care of our employees and help them grow personally and professionally. This is what separates us from other companies. We have a program called the Velocity Course that helps employees learn about the tankerman industry and prepares them for success in their careers.
After the first phase of training, employees attend a 3-day course where they learn how to survive and navigate the industry while reducing tension and fostering a sense of teamwork and a relationship with senior management.
'How better to prepare for the trials and tribulations that will be forced upon you than to hear the testament of those who have done it before you?' Dwayne adds.
Browse Open Positions for the Tankerman Job of Your Future
No matter the industry, onboarding at a new company can be intimidating. Fortunately, at AccuTRANS, each tankerman receives support that is unequaled and goes through a hiring and onboarding process that is transparent. This allows team members to be successful and shows what makes us special. We care about each employee. This means you are not just another number to us; you are part of the AccuTRANS family.
We offer competitive pay, industry-leading benefits, and unparalleled training that emphasizes personal and professional development. Plus, our culture supports those who live by our core pillars: Grit, Heart, Thought, Hunger, and Health. Browse open positions now to start the career of your future.