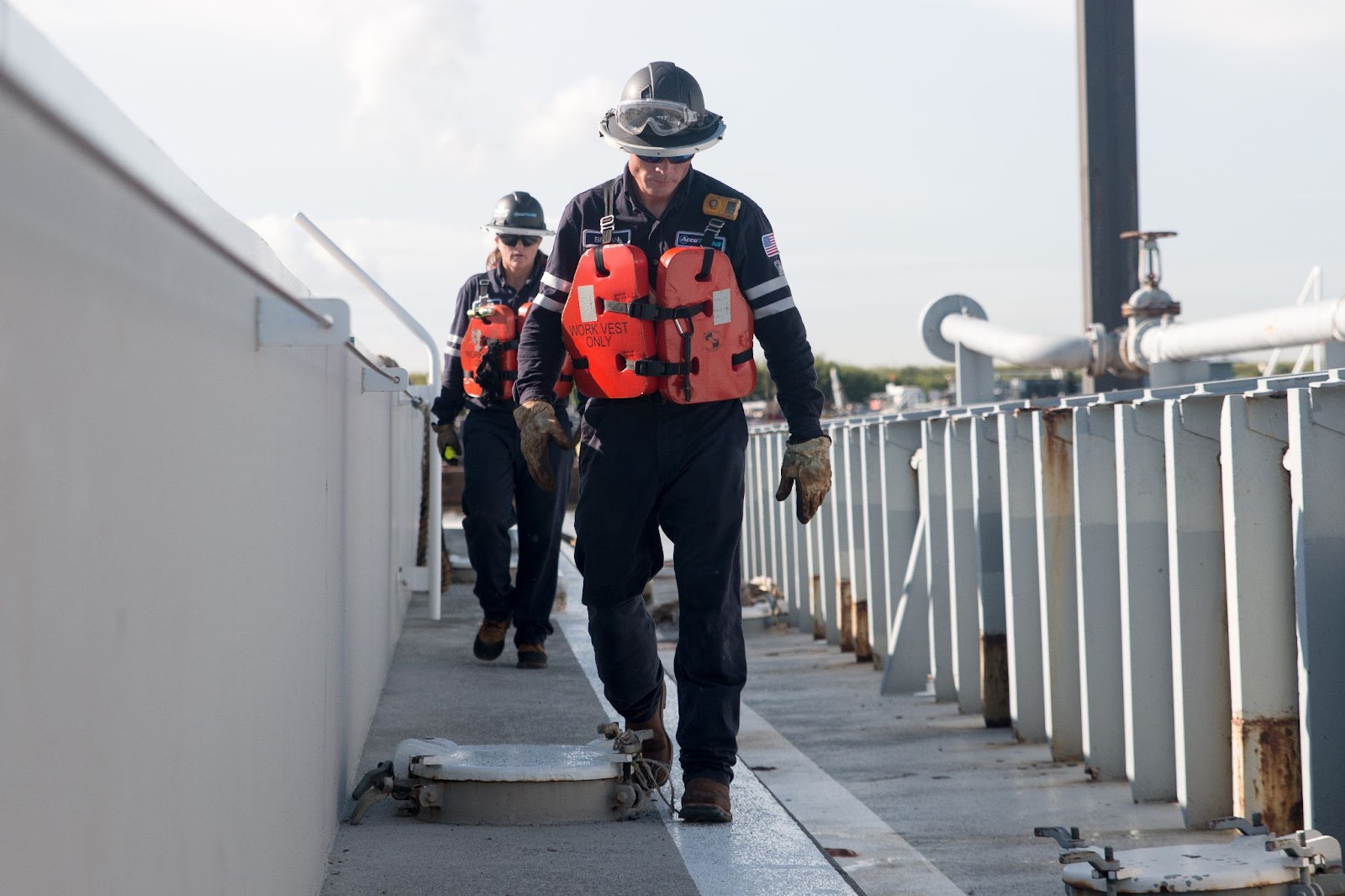 With all of the options in today's workforce, trying to find the right path to a secure career with earning potential is challenging. If you are looking for a sustainable career as a licensed U.S. Merchant Mariner with excellent compensation and benefits, then a career as an AccuTRANS tankerman is the perfect choice! If you think you are ready for the challenge and this is the job for you, then learn more about it below:
What Is a Tankerman?
An AccuTRANS tankerman is a specially-trained, Coast Guard-licensed individual who operates as the Person-In-Charge (PIC) of an inland tank barge transferring dangerous and hazardous liquids.
A USCG licensed tankerman is responsible for ensuring the safe transfer of cargo onboard the vessel you are assigned. You are obligated to ensure a safe work environment and prevent any damage to people, the environment and the equipment. Most licensed tankermen in the industry work offshore and spend extended periods on a vessel away from home. At AccuTRANS, we only employ shore-based tankermen. This provides access to the lucrative wages and benefits that come with being a Merchant Mariner without the sacrifice of being away from home.
As shore-based tankerman is a support role for the vessel we service, this job is an "on call" job. While all of our employees are provided a shift with scheduled off days, there is no daily scheduled time when you are expected to report to work. This can be demanding for some people that need a routine. If you like flexibility and a new challenge every day, then this is the career for you.
AccuTRANS provides all of the training and licensing at no expense to you! You are paid throughout your training period. We also offer a progressive training payscale that rewards your progress with increases in pay as you complete milestones.
What Is a Transfer Operation?
Essentially, a transfer operation is moving liquid cargo between a shore facility and a vessel. There are many different types of cargo within the petroleum industry with unique characteristics. Only a qualified USCG Licensed tank barge (PIC) can be responsible for any cargo operations upon a vessel.
A Day in the Life of an AccuTRANS Tankerman
As a tankerman, you will transfer materials, sometimes dangerous chemicals, on and off barges. Tankerman jobs involve several tasks and responsibilities.
A day in the life of a tankerman in an "on-call" job: You will be given a specific time at which you will be considered rested and ready for work. You must be ready for work at that time, and when called, record the orders for that day. When you arrive at the facility, you will verify those orders with all involved in the transfer. A full inspection of the equipment to be used is required by federal law, and only after all parties are aligned and equipment is compliant, can you start the process.
Then you will connect the cargo arm or hose to its manifold. Because you work with hazardous materials, you often must wear special, protective clothes. Afterward, you must align barge valves to load or unload cargo. During the transfer, you must:
Monitor cargo flow continually throughout the transfer operation
Make adjustments as needed
Monitor surrounding waterways continually for pollution
Stay vigilant for leakage
You must fill or empty the barge precisely as orders dictate, disconnect the cargo arm or hose, secure barge valves and openings, make sailing preparations, complete final paperwork, wait for the final inspection, and call dispatch with job details before leaving.
What Does it Take to Be A Tankerman?
Becoming an AccuTRANS tankerman is a rewarding career that provides ample opportunities for you to grow on and off the clock, but it isn't for everyone.
First, tankermen usually work the standard 6 & 3 rotation. Working 6 days on-call with the following 3 days off. When called, you should prepare to work a maximum of 14 hours. However, average job times are around 10 hours. Rest periods between jobs vary depending on multiple factors, but you can expect a minimum of 10 hours off. With that being said, the average tankerman can be expected to work 45-50 hours over the 6-day period. The great thing about AccuTRANS is we honor a true rotation, and there is no limit to the amount of overtime. You are free to work as many hours as are available to you!
Tankerman jobs are physically demanding and require enduring hazards and hazardous conditions. There are crucial traits one must possess to succeed that we have identified as our pillars Grit, Heart, Thought and Hunger. When all of these are aligned, that contributes to the Health of the company.
Safety-oriented
Ethical
Quality-motivated
Conscientious
Resilient
Disciplined
Independent
Physically fit
Continually learning and evolving
Detail-oriented
Cautious
Supremely competent
Performance-oriented
Level-headed
Tankermen also receive extensive training in the health and safety hazards of dangerous liquid (DL) cargoes and DL cargo transfer operations. Other qualifications and eligibility requirements include:
Being at least 18 years old
Complying with drug-testing
Complying with a background test
Acquiring an approved Cargo Course Certification
Taking necessary safety courses
Obtaining a Transportation Worker Identification Credential (TWIC)
Having reliable transportation
Obtaining Tankerman Barge PIC, DL, and LG Endorsements
Obtaining a Merchant Mariner's Credential
And more
Transfer Your Future and Accelerate Your Success as an AccuTRANS Tankerman
If you are looking for the career of your future, at AccuTRANS, we offer unrivaled opportunities for career advancement and training. If you are well-suited for this career trajectory, we have built a culture that supports those who live by our core pillars necessary for industry success: Grit, Heart, Thought, Hunger, and Health. We offer industry-leading compensation and benefits and treat each team member like family.
Our Purpose at AccuTRANS is to Transfer the Future Together! Transferring cargo is our business, and we move the cargo that powers the world. Through our dedication to success, we are transferring the future of our customers, as well as the future of our people. Are you ready to transfer your future? Browse our open positions.