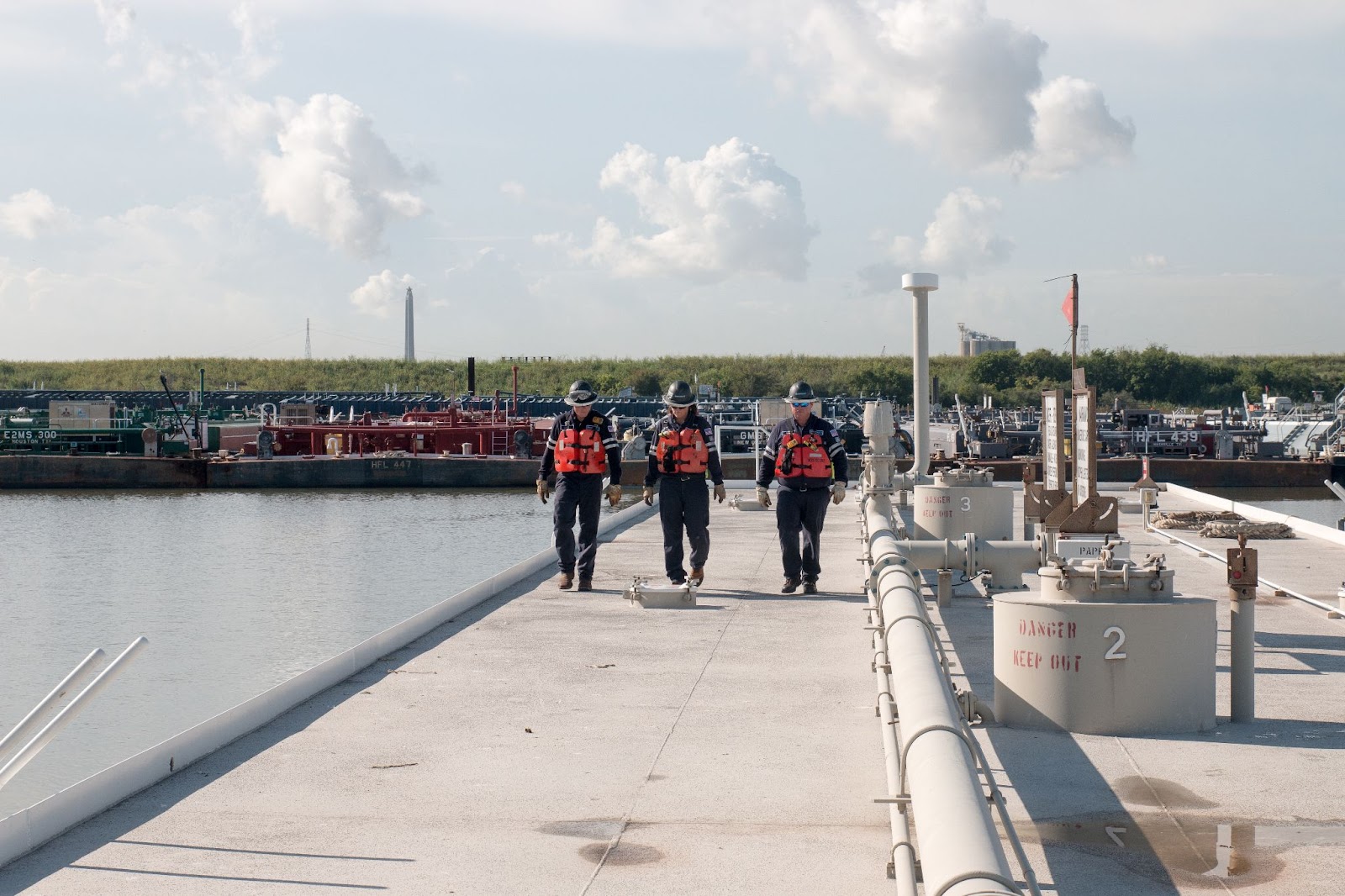 A positive work culture for those working tankerman jobs makes each employee feel valued. "Camaraderie is more than just having fun, though. It is also about creating a common sense of purpose and the mentality that we are in it together," citing research from the Harvard Business Review.
At AccuTRANS, we treat each tankerman like family. This family atmosphere makes AccuTRANS an unmatched workplace. What makes the barge brotherhood we create so important? Darrick and Rick share their experiences:
Tankerman Training Programs
Our training programs are essential opportunities for each AccuTRANS tankerman to create and strengthen their bonds with colleagues.
Our Velocity Course, for example, makes tankermen better people to make them better employees. "When you work for AccuTRANS," Darrick, a returning logistics coordinator, elaborates."It's not about how good of an employee you can be. It's about how good of a person you can be."
An important part of this program is that logistics personnel and tankermen take this course together. Tankermen must work closely with the logistics team. Being in this course together helps both sides understand what the other is going through.
"It's not tankermen doing all the work," Rick, a tankerman, explains. "We have dispatchers, supervisors, administrative personnel. We all get the job done together."
"Logistics is the voice of the company," Darrick continues, explaining why they must be in sync, "and tankermen are the face."
During training, AccuTRANS tankermen also build relationships with leadership. "The owner, Gary, makes an effort to talk to each employee and each member of your family," Rick offers. "At other jobs, the CEO can be standing three feet away and doesn't even acknowledge you."
Brotherhood On the Barge
Working on the barge is essential to tankerman jobs, and this is also where every AccuTRANS tankerman forms important relationships with colleagues.
Genuine camaraderie is necessary for building collaborative, successful teams and accomplishing goals. Helping each other succeed in these conditions creates a deeper connection and sense of togetherness.
This camaraderie is essential when out in the field, and our team always has each others' backs. Darrick continues, "The people who work here would give you the shirt off their back without any questions, so it was very easy to say yes when they asked me to come back."
Whether it's sharing water on a hot day or a canteen of coffee on a cold day, our team sincerely supports each other because they genuinely care for each other like family. People form unbreakable bonds when they navigate challenges together.
"You're with those guys for more time than you're with your family," Darrick reflects. "You form kind of a bond with them, so it's basically like any other brother-brother relationship. You're going to poke fun at each other; you're going to crack jokes."
Shore Tankerman At Home
Being a part of the AccuTRANS family as a tankerman also means our support exceeds what our team experiences on the barge. AccuTRANS provides several incentives and events to recognize tankermen and their families for their sacrifices and contributions, like:
A family day every other year because when you're a part of the AccuTRANS family, so are those you care about the most.
Industry-leading benefits for employees and their families because the wellness and happiness of you and those you care about the most are our top priorities.
Trips and events every other year to reward employees for their hard work.
The dynamic performer's dinner in January encourages, recognizes, and rewards exceptional performances.
401k representative visits every April to assist in retirement planning because, like all families, when you're part of the AccuTRANS family, it's a lifelong bond.
And much more.
"We have different activities," Rick elaborates, "This last month, we had our Family Fest Day. Our families were invited, and we went to a water park. We spent the day there eating and swimming. All our families were there interacting. It was really a nice day."
Browse Open Tankerman Jobs to Join the Barge Brotherhood
If you are interested in working at a company that cares about you and treats you like family, we warmly encourage you to consider a career as an AccuTRANS tankerman. We have gone to great lengths to establish a positive work atmosphere based on company-wide support and unwavering camaraderie. With AccuTRANS, you are not just another number; you're a part of the AccuTRANS family.
We commit ourselves to creating a positive work culture and environment that makes the work more rewarding. Our culture supports those who live by our core pillars: Grit, Heart, Thought, Hunger, and Health. Browse open tankerman jobs for the career of your future.