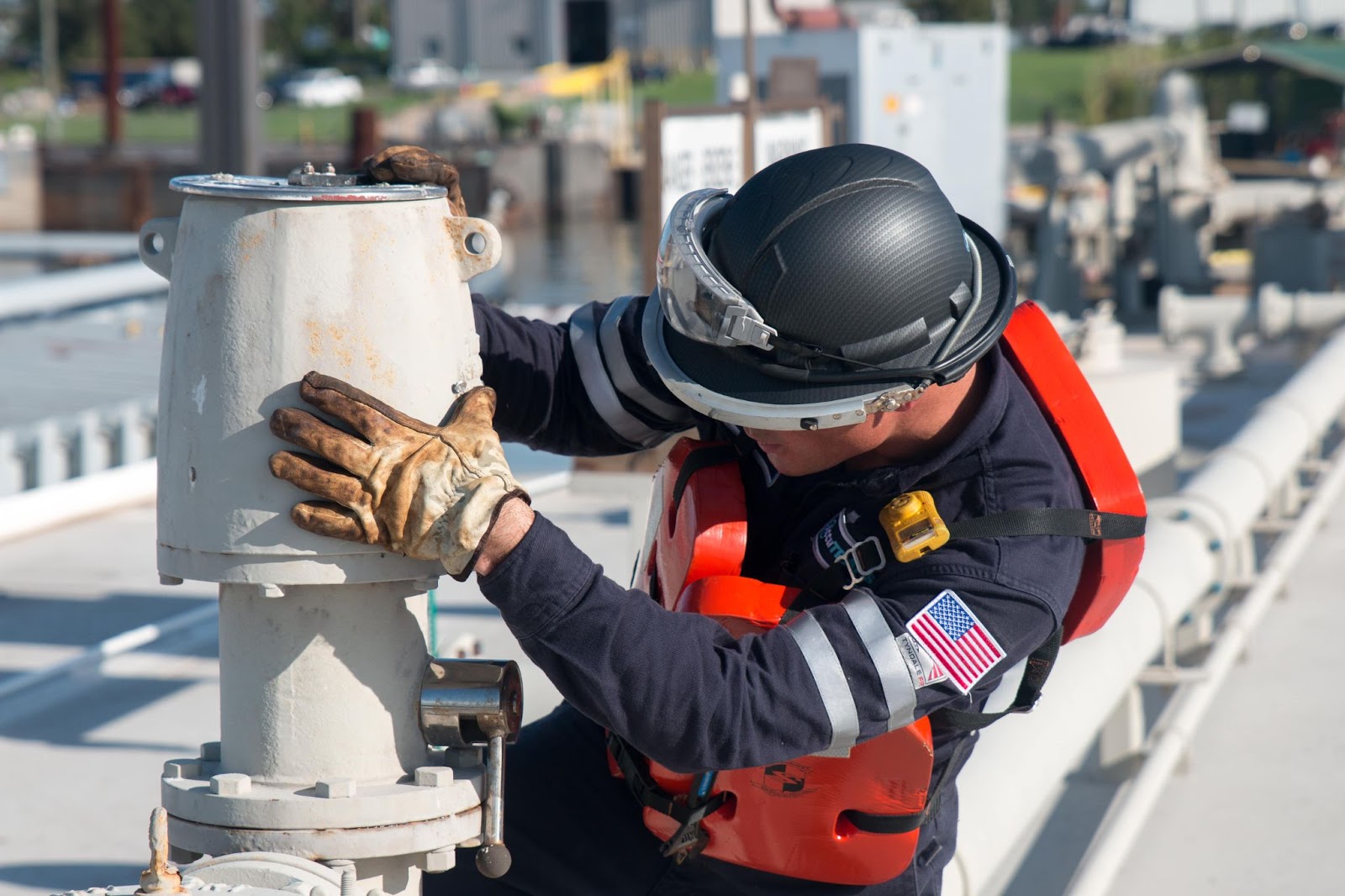 If you are considering a tankerman trainee job, this is the beginning of an exciting and rewarding career. At AccuTRANS, we offer an industry-leading salary and benefits package, and we position each trainee for success. Each tankerman in the AccuTRANS family lives by the AccuTRANS mission from the first call to the transfer's end. Our philosophy of continuous improvement means we will all be even better tomorrow.
Learn more about the tankerman trainee job description, salary and benefits, and requirements in 2023 in our blog.
Tankerman Trainee Job Description
An AccuTRANS tankerman trainee enrolls in our exclusive training program to eventually graduate to a USCG-licensed tankerman job.
AccuTRANS tankermen are licensed and experienced PICs (Persons in Charge) in handling hazardous liquids. These tankermen specialize in safely loading and discharging liquid tank barges shoreside, a feature that sets a tankerman job with AccuTRANS apart.
"Our tankermen are shoreside tankermen," Robert, a lead logistics coordinator with AccuTRANS, explained, "They don't have to work on a boat; they stay on land at home with their families. Instead of being on the water for 21 days, they're on shore every day."
While working a transfer, a tankerman must ensure a safe work environment and prevent damage or harm to people, the environment, and the equipment they use. Tankermen work "on call."
Tankerman Trainee Salary & Benefits
An AccuTRANS tankerman trainee receives an industry-leading salary and benefits package. On average, people working a tankerman job earn between $101,000.00 and $120,000.00 annually.
"Six figures?" Del, the Area Manager for Mobile, AL, elaborated, "If you're in an area that's busy and you can get around, six figures is very doable."
We understand that salary is not the end-all-be-all, so we also provide a competitive benefits package to employees. This package includes:
Weekly paychecks
Flexible, rotating schedules
Paid time off and sick leave after one year
A standard of excellence
Affordable and comprehensive medical, dental, and vision plans
Employer-paid life insurance
Employer-paid short-term disability insurance
A workplace that has been recognized as a TOP WORKPLACE since 2015 by the Houston Chronicle and New Orleans Advocate
The HealthJoy App (wellness app)
An excellent culture that values each employee as an individual
Opportunities for professional growth and development
Christmas bonuses
Trips
401(k) with match
And more
Robert expanded on the long-term benefits an AccuTRANS tankerman trainee can enjoy, "I've had the same 401(k) account since I was 24, and I talked to our 401(k), and he was like, 'Wow, that's awesome.'"
Trainees also participate in our unique training program called QUEST (Quality, Education, Safety, Training). This program offers invaluable training opportunities that trainees can take full advantage of at no expense to them, including:
A USCG-approved DL/LG training course
The Velocity Course
Safety training
Firefighting training
Emergency response training
Team coordination training
And more
This is just scratching the surface. At AccuTRANS, we also offer activities and parties for employees and their families and employee recognition programs to reward the hard work that makes exceptional service possible.
Tankerman Trainee Job Requirements
Becoming a tankerman is a rewarding career with ample opportunities to grow on and off the clock. The AccuTRANS tankerman trainee job has some requirements each individual must meet for eligibility. Requirements include:
Being at least 18 years old
A valid driver's license
Speaking English
Satisfying barge service requirements
Dependable transportation
Outdoor job experience
Technical/mechanical experience is a plus
Passing a physical
Passing a drug test
Passing a background check
The ability to work a 24-hour on-call schedule
Acquiring an approved Cargo Course Certification
Obtaining a Transportation Worker Identification Credential (TWIC)
Acquiring Tankerman Barge PIC, DL, and LG endorsements
Acquiring the Merchant Mariner's Credential
Becoming a tankerman also requires having the right attitude. At AccuTRANS, we look for individuals who are aligned with the AccuTRANS culture.
Are You Ready to Transfer Your Future? Browse our Open Tankerman Trainee Jobs
At AccuTRANS, we strive to be more than just another tankerman company because we understand that the best things don't come from workplaces or organizations; they come from families. For over 20 years, AccuTRANS has provided the leading customer service with a personalized human touch. We go above and beyond to support each employee in living out and achieving our core pillars: Grit, Heart, Thought, Hunger, and Health.
We always prepare trainees for a successful transfer and future. Learn more about the trainee job description and browse open tankerman jobs now.