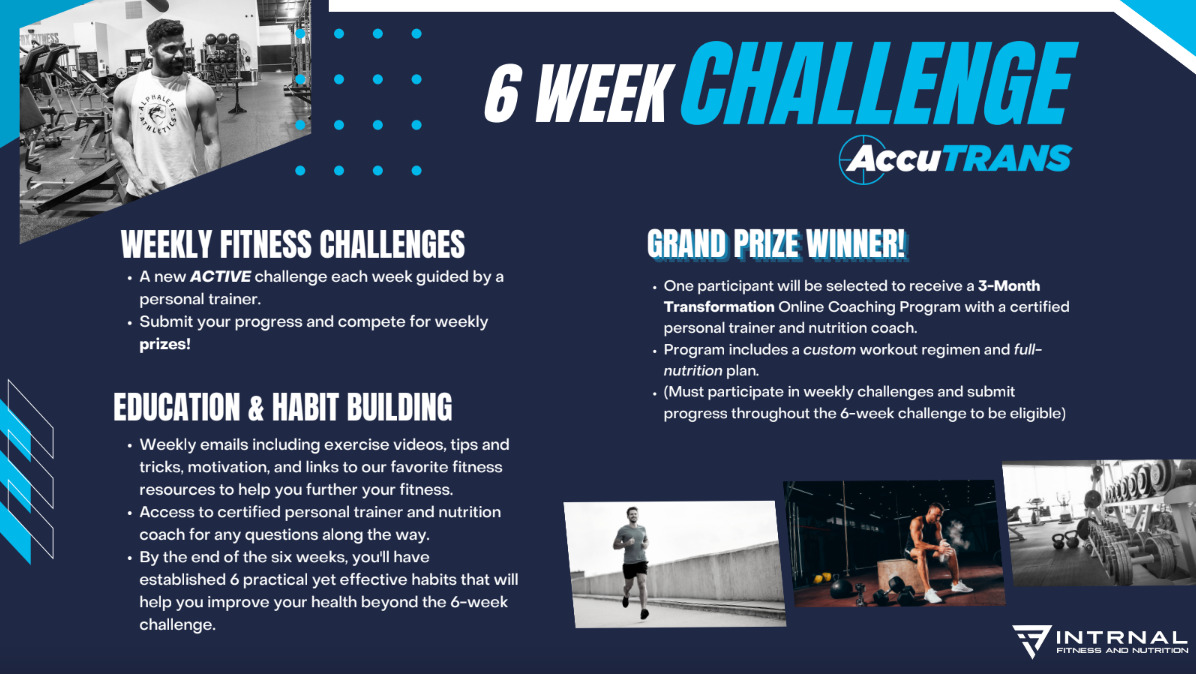 We are officially ready to begin the first portion of the AccuTRANS Well-Being Program for 2023. This quarterly program consists of four parts with different focuses: quarter one will focus on fitness, quarter two will focus on finance, quarter three will focus on nutrition, and quarter four will focus on mental health.
Since it is the first quarter, we are starting an exciting initiative: Our 6-Week Fitness Challenge. Learn about this initiative, why to participate, and what you can win in our blog.
What is the AccuTRANS Fitness Challenge?
The first part of the quarterly well-being program at AccuTRANS is a 6-Week Fitness Challenge from January 30th to March 10th.
This challenge is voluntary, but we strongly encourage each employee to join in so we can all work to improve our health together. We are bringing in Jake, a certified personal trainer and nutritionist, to work with participants.
Jake will create content and new challenges weekly, and participants will track and submit their progress. Content provided will include weekly emails, tutorial exercise videos, tips and tricks, motivational pieces, and links to our favorite fitness resources to help you further improve your health and fitness.
For example, maybe you will be challenged with walking a certain amount of steps a day, or maybe you will have to complete a planking challenge throughout the weeks. We will track and reward the leading participants' performance, but we'll discuss that later.
What's the Purpose of the AccuTRANS Fitness Challenge?
The Fitness Challenge serves an important purpose: We are helping our people build six practical but effective active habits in their day-to-day life. After all, success in the field requires being in tip-top shape.
"We want to add value to every member of the AccuTRANS family by promoting and supporting the personal and professional growth of our employees," Michelle, the Maritime Compliance Manager with AccuTRANS, explained.
With us, our people are not just numbers. We want to help them succeed on and off the clock, which requires helping them live the healthiest lives possible because we firmly believe your health is your personal wealth.
What Can You Win with the AccuTRANS Fitness Challenge?
We know what you are thinking: What can you win with this challenge? Well, like with all challenges, there are prizes for participants.
Throughout the six weeks, participants will win small prizes for their performance and progress. For example, one week, it might be a hat, and another, it might be sunglasses. For the top performer, we will award them a grand prize.
This grand prize is a 3-Month Transformation Online Coaching Program with a certified personal trainer and nutrition coach. The program will consist of a customized workout regimen and a full-nutrition plan.
Remember that eligibility requires participating in weekly challenges and submitting progress throughout the 6-Week Challenge.
Sign Up for the Fitness Challenge and Learn What's New At AccuTRANS Today
The 6-Week Fitness Challenge is just one of four initiatives we are beginning to help our people lead better and more fulfilling lives in the field and at home. We strongly encourage all members of the AccuTRANS family to participate in this challenge. To sign up and learn more, email engagement@accutransinc.com.
Read our blog to see what's new at AccuTRANS, and keep your eyes open for the beginning of the next phase of our Well-Being Program, Finance, during which we will have 401k reps offer retirement help, go over your plan, answer your questions, and more.