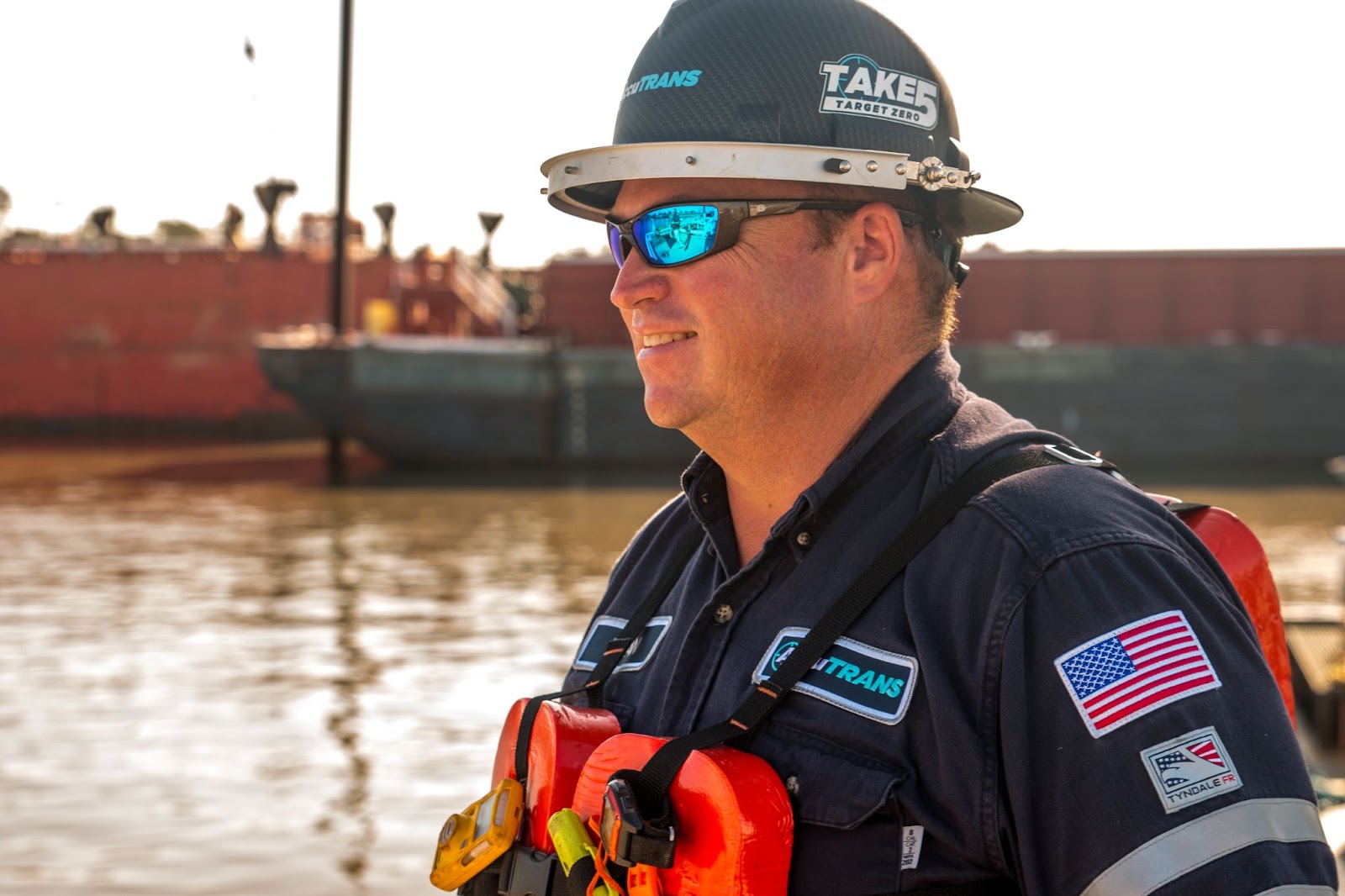 One fateful evening after a safety meeting, our Beaumont Operations Manager, Will, made a call that would save lives and alter the course of shore tankerman safety. During this call, our Take 5 initiative was born. Our top priority is, and always will be, the safety and well-being of each member of the AccuTRANS family. For 25 years, we have been the industry gold standard of successful transfers, and our world-class service is only possible because of our commitment to continuous improvement.
Thanks to this initiative, our people can rest assured we have woven safety into the fabric of our culture and will continue to improve it. Learn more about Take 5:
What is the Take 5 Initiative?
Several years ago, we were reviewing shore tankerman safety and our efforts of achieving Target Zero Failures. As we looked at different cases, we noticed a common thread.
Throughout a transfer, many people were on autopilot and failed to recognize hazards as they moved from task to task. It didn't matter what stage of the transfer we were analyzing, how long the employee had been on the job, or how much experience they had.
Our people were still consistently planning for their safety and anticipating challenges, which explained why we were still completing so many transfers without error. But that is not the end-all-be-all of success. Success, for us, is when our people feel content and secure.
There is no shortage of inspections and plans of action in our industry. From the initial barge inspection to signing paperwork, we were completing all these safety procedures.
But our people were still exposed to hazards, and incidents were still occurring. We knew we had to create a plan of action that could serve as a buffer and protect employees when in the field. So what did we do?
We created the Take 5 initiative to improve shore tankerman safety and save lives. When Will called, the conversation was surprisingly simple.
"We knew complicated processes were not the answer and that adding more steps would only create new problems. When Will called me, he said that we needed to keep it simple," Shon, VP of Operations at AccuTRANS, explained.
What followed was a eureka moment. 'Why don't we just tell our people to take five?' Will asked, and the Take 5 program was born.
How the Take 5 Initiative Improves Shore Tankerman Safety
Something became crystal clear as we crafted a plan to improve shore tankerman safety. An organizational change required each individual to change.
Following a procedure, signing documents, and having credentials aren't enough to make a meaningful difference. We had to engrain this safety in each employee.
"Tankermen work in dynamic environments, and it is impossible to account for all possible dangers or challenges. You can plan for many challenges, but it is impossible to plan for everything because potential challenges and dangers are not always clear at the beginning of the job," added Shon.
This initiative was the answer to these issues that were plaguing our company. Our tankermen perform a variety of tasks that require a variety of skills.
Focus is important to avoid going through the motions. When moving between tasks, stop and take 5. This can be five seconds, minutes, or even five attempts at crafting a safety plan.
By clearing the mind, surveying their surroundings, and focusing on safety, our people can focus on the necessary safety precautions each task demands.
What Are the Results for Shore Tankerman Safety?
The Take 5 program has had an enormous impact on our company. So, what have been the results for shore tankerman safety?
"Since implementing this program, we have experienced the single largest reduction in our company-wide recordable injuries in years. We have even seen entire operating areas go Target Zero for the entire year. Most importantly, however, our people are safer than ever," Shon elaborated.
We currently have an industry-leading spill ratio, and we will soon achieve our ultimate goal of Target Zero for the entire company, which means protecting every member of the AccuTRANS family, so they never have to worry about their safety when they come to work.
Transform Your Future, Browse Open Positions at AccuTRANS
We are committed to supporting each member of the AccuTRANS family in living out our core values: Grit, Heart, Thought, Hunger, and Health. Our company's culture revolves around shore tankerman safety, and our peoples' well-being is always a top priority. But we are far from finished. While we have made progress, we will continue to engrain this mindset into employees as our company grows. With the help of each member of the AccuTRANS family, we will soon achieve our goal of Target Zero for the entire company.
Celebrate our 25th anniversary with us and learn what's new at AccuTRANS. If you are interested in joining the team and experiencing the leading culture, browse open positions.