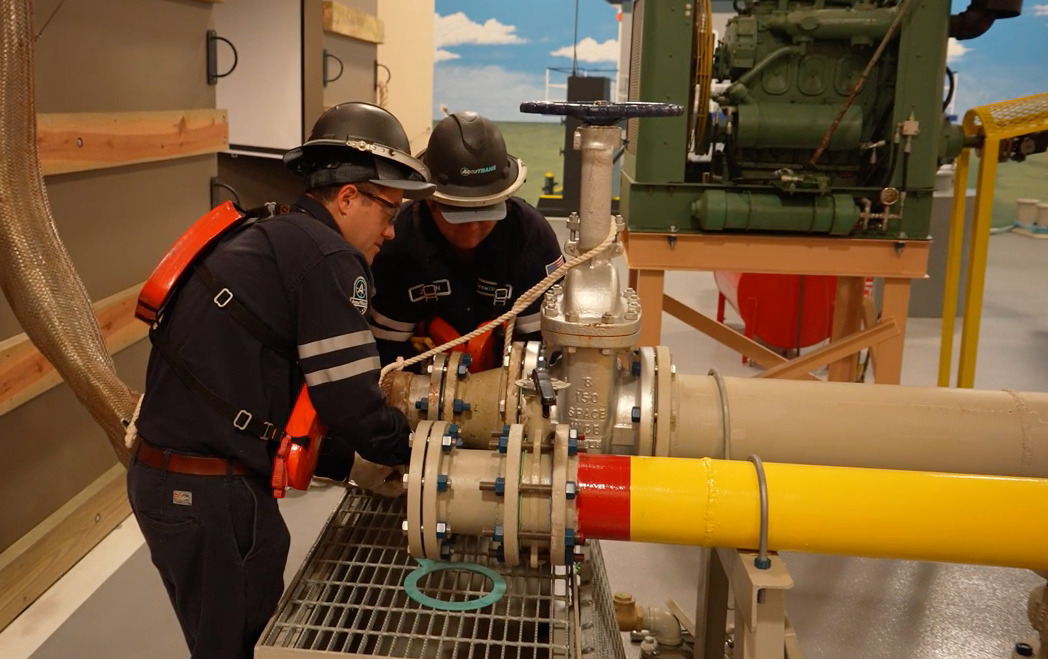 Shore tankerman jobs offer an excellent career opportunity with great pay, competitive benefits, and a rare sense of purpose. But it is important to understand exactly what this job entails and offers before committing to it.
At AccuTRANS, we have been the industry gold standard for 25 years thanks, in large part, to our world-class people just like you, and we support each tankermen in living out our core pillars: Grit, Heart, Thought, Hunger, and Health. To understand what this job entails and the benefits it offers, read our blog:
Shore Tankerman Job Description
People working shore tankerman jobs are in charge of handling hazardous liquids shoreside, like gasoline, crude oil, liquefied gas, and natural gas.
As a US Coast Guard (USCG) licensed tankerman at AccuTRANS, you are in charge of discharging liquid tank barges shoreside, and you work "on call." AccuTRANS tankermen are licensed Persons in Charge (PIC) in handling and transferring dangerous liquids.
Tankermen receive extensive training in safety, firefighting, and emergency response. Tankermen must acquire their TWIC and MMC credentials. Tankermen must also have a driver's license and be able to pass a physical, drug screening, and background check.
Tankermen must ensure their work environment is safe and prevent damage to others, the environment, and equipment during transfers. As a tankerman, you will play an essential role in fueling our nation's progress, which is a reward in and of itself.
"There is no such thing as too green. We're not looking for skill. We look for a character. If you have the character, we'll give you the skill," explained Mr. Duane, Director of the QUEST Department at AccuTRANS.
Shore Tankerman Salary
Your salary as a tankerman depends on where you want to work and what position you hold. With no college degree required, people working shore tankerman jobs can easily earn up to six figures in their first year, even as trainees.
Shore Tankerman Benefits
There are several benefits we offer people working shore tankerman jobs. One unique benefit of working at AccuTRANS is we pay for training, which can cost over $10,000, and we arrange all paperwork and physicals throughout this process. Other benefits include:
Weekly paychecks
Flexible, rotating schedules
Sick leave
Benefits & wellness apps
Comprehensive insurance (medical, dental, vision)
Employer-paid life insurance
Employer-paid short-term disability
Voluntary long-term disability
Unlimited overtime (if desired)
401k
Paid time off (PTO)
Industry-leading DL/LG training courses
USCG-approved schooling
The QUEST program
Family, wellness, and culture programs, like The Well-Being Program
And more
Interested in Shore Tankerman Jobs? Apply Now!
If you are looking for a fulfilling career that offers great compensation, competitive benefits, and a world-class culture, then a shore tankerman job at AccuTRANS is the role for you. We are committed to supporting each member of the AccuTRANS family in living out our core values: Grit, Heart, Thought, Hunger, and Health. If that sounds like you, then you will be a great addition to our team. We are also proudly celebrating our 25th anniversary. We continue to be the industry gold standard, which would be impossible without our people.
Are you interested in a career as a tankerman? If you fit our core values, apply now for the career of your future to join the AccuTRANS family.